It was a weekend of working my way through our kitchen, toy room and dining room.
I've got plenty of clutter to tackle this fresh new year.
And so do my kids.
Exhibit A: Ryan's junk drawer in our kitchen.
It looks like one of those I Spy pages.
Can you find mardi gras beads and ten deli ticket numbers?
A chapstick, a toothbrush and two fishing bobbers?
After watching me tackle two messy corners of our kitchen, Ryan was pumped and ready to organize his problem area.
I armed him with a few tools: a garbage can, a box to re-route things that belong elsewhere (play dough to the toy room, toothbrush to the bathroom drawer) and most crucial of all: our peacemaker, a long hanging jewelry organizer. Ours are bright and decorative; if Marshall's wasn't around the corner, I might have ordered the white ones from The Container Store.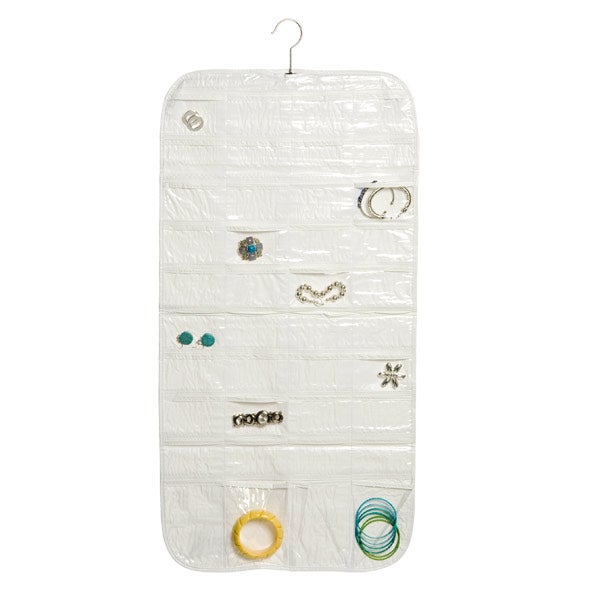 Each of my boys have one in their closets, and they are free to fill it to the brim with loot bag trinkets, little toys and figures.
This is Ryan's treasure keeper, post-junk drawer clean out.
Often the entire contents will be on the floor after a friend visits, which I know means Ryan has explained every shark tooth, gymnastics medal, duct tape creation and most importantly, his Avengers Superhero membership card (which is a really rare item belonging to only lucky children who happened to have been at the Disney store for Avengers training class). Its an easy clean up though, and one Ryan really doesn't mind.
I call it the peacemaker, because it lets the kids keep all that, well, junk they collect, and have some control over it. Being a kid is hard sometimes: you have no money to buy the things you covet, your parents more or less dress you (by buying your clothes), tell you what to eat, limit wonderful things like candy and television and video games. Its challenging but respectful to allow them to be in charge of the plastic bits they pick up from birthday parties and fairs. They may look meaningless, but Ryan associates each with a sweet little memory.
For sure, I don't need to weigh in on something that takes up this much room in the closet.
At some point, the treasure keepers will fill up and the kids will have to make hard choices. Until then, I say let them enjoy every charity rubber bracelet, bubble wand necklace and fake piece of money that comes their way. Even one particular clutter-free friend, who typically tosses her kids' junk before it even gets in her house, found this idea so irresistible, that she included a treasure keeper in her kids' Christmas stockings this year.
Ryan shooed me away from his junk drawer clean-up a few times, wanting to be the sole decision maker on what stays and goes. He did throw a few broken toys away and even donated some trinkets to his brother, who worked beside him, continually asking for "a few more things" to fill his keeper.
I was pretty impressed with my three year old's organization.
Little figures went together. Bracelets, nearby, but separate from a ring and some necklaces.
A few coins in this pocket. And some personalized "Noah" things together, way at that bottom.
Ryan is terribly proud of his cleaned-up drawer. I am terribly proud that I taught my six year old the very essential skill of cleaning out a junk drawer. By the way, that is not a real finger in the velvet lined box. That clever piece of plastic actually is a bubble wand from his best buddy's Halloween party.